ESTA for Business Purposes
Updated: Aug 24, 2023 | Tags: ESTA for Business, ESTA Requirements
Introduction
ESTA is a convenient travel authorization for business travelers visiting the United States that can be used by individuals who hold a passport from a visa waiver member country. An ESTA can be used for a variety of business activities such as attending job interviews, business-related research activities, consulting with business associates, traveling for a scientific, educational, professional or business convention or conference, negotiating a contract or settling the affairs of an estate.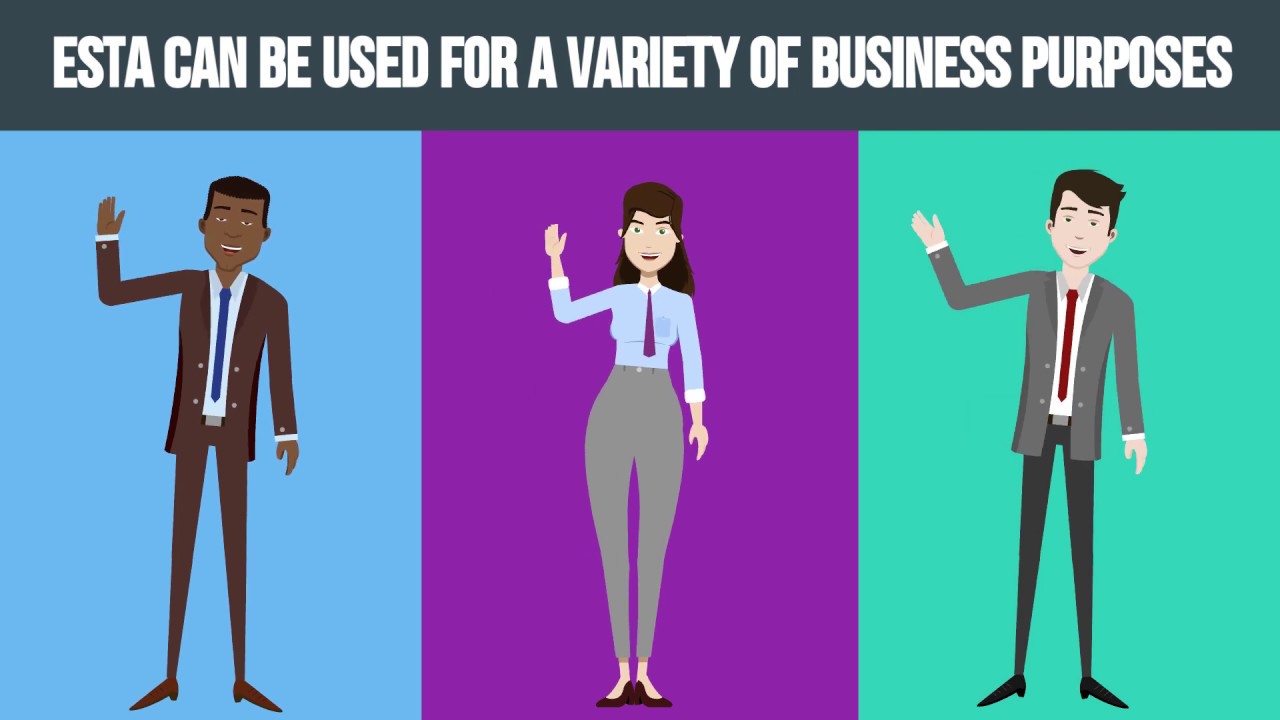 ESTA for Business Purposes
Examples of situations where an ESTA would be suitable for business purposes
Example 1
You hold a passport from one of the 41 visa waiver countries, and you're a technology developer or enthusiast flying from London, and want to attend the Consumer Electronics Show (CES) in Las Vegas, Nevada for a few days as a visitor. In this example, an ESTA would be a suitable travel authorization.
Example 2
An HR manager is in charge of arranging travel for a staff of engineers in Germany, all of whom are German passport holders. These engineers need to visit a U.S. client site for a week and will continue to be paid a salary by their German employer. In this example, the HR manager could apply for an ESTA on behalf of the German engineers.
Example 3
A Swedish passport holder and entrepreneur, running a Swedish company, wants to visit the United States for four days to negotiate a contract with a U.S. supplier or customer. If the entrepreneur's activity is through his/her own Swedish company, then an ESTA could be a suitable travel authorization for such business purposes.
What other kind of work can I do in the U.S. on an ESTA?
An ESTA can be used to work for your employer in a limited capacity, as long as your income is from a non-U.S. source. Your employer also needs to be either a U.S. citizen who is based abroad but is temporarily visiting the United States, or a foreign citizen who is based in the United States but has a B, E, F, H, I, J, L, M, O, P, or Q category visa.
Other ESTA Requirements
Travelers wishing to obtain an ESTA for business purposes should review the ESTA requirements before applying as well as the details of the Visa Waiver Program.
Denials and Ineligibilities
ESTA denials cannot be appealed. Applicants that have been denied or are ineligible for ESTA can still apply for a B-1 business visa.
Restrictions
Extending your stay or changing status – you may not extend an ESTA or apply to switch to a visa category while in a United States territory. Any other visa applications or subsequent ESTA applications must be submitted outside the United States. Applicants would jeopardize future visa or ESTA applications by not departing the United States before 90 days have passed since they arrived in a U.S. territory on an ESTA.
Purpose of travel – ESTA cannot be used if a traveler is intending to study for academic credit, work for payment from a U.S. source, or work as a contributor in the press, such as a role in radio, print, film, or any other form of media. ESTA cannot be used for any form of paid competitive or exhibition performance in front of a paying audience. Lastly, an ESTA cannot be used as a way of obtaining residency on a permanent or temporary basis, other than the 90 days granted under the Visa Waiver Program.
Admissibility
An approved ESTA does not guarantee admission into the United States for business purposes. Customs and Border Protection (CBP) has the authority to deny any ESTA approved traveler entry into the United States. Denials at the border could be due to reasons such as failing to declare goods or merchandise, providing misleading information on an ESTA application form or any other reason deemed as a possible immigration or safety and security risk to the United States. If you are denied admission at the border, you will not be granted rights for an appeal.
Conclusion
ESTA can be used for a variety of business purposes, thereby providing a useful travel authorization for U.S. bound employees, employers and entrepreneurs. Several important restrictions apply to the nature business activity or work that can be performed on ESTA, thus travelers should carefully review the ESTA requirements to ensure their travel purpose will be permitted.
If you hold a passport from a visa waiver country such as the UK, Ireland, Australia, New Zealand or other Western European Country, you may be eligible to apply for ESTA. An ESTA is valid for several business, tourism, medical or transit purposes. Get started on your application, otherwise, visit the FAQ to learn more about the ESTA